PRINCESSES VR - 11 MEDAL COLLECTION (Other Countries)
DISTANCE : 10KM each medal
* The distance can be completed in one-shot or cumulatively across separate runs
PACKAGES
11 Medal + 1 Short Sleeve T-Shirt: RM530
11 Medal + 1 Long Sleeve T-Shirt: RM535
11 Medal Only: RM500

* RM20 SHIPPING CHARGES
MEDAL MEASUREMENT
8cm height x 4-5cm width, thickness 3mm
ENTITLEMENTS
Race Apparel
Finisher Medal
e-Certificate
E-Bib
RUN CHALLENGE
10/02/2020 – 10/03/2020 (Mulan, Jasmine, Ariel)
20/03/2020 – 20/04/2020 (Belle, Elsa, Snow White)
30/04/2020 – 30/05/2020 (Cinderella, Anna, Pocahontas)
15/06/2020 – 15/07/2020 (Merida & Aurora)
DELIVERY
Delivery Start: 01/04/2020 (Mulan, Jasmine, Ariel)
Delivery Start: 10/05/2020 (Belle, Elsa, Snow White)
Delivery Start: 20/06/2020 (Cinderella, Anna, Pocahontas)
Delivery Start: 01/07/2020 (Merida & Aurora)
E-BIB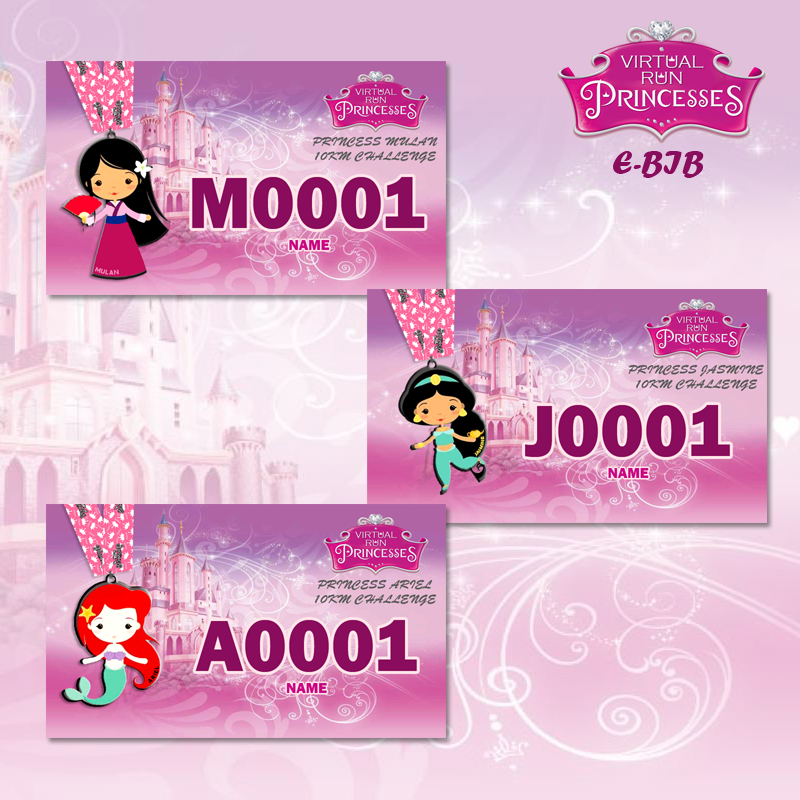 Your e-bib name will be same as the billing name or you can add in the remark column your preferred e-bib name.
You will receive your e-Bib within 24 hours upon successful registration.
E-BIB GOOGLE DRIVE FOLDER

- <

ENTER HERE >
E-CERTIFICATE (Design coming soon)
You will also receive your e-Certificate when your entitlements are scheduled for delivery.
UPLOAD RESULT :- (NO DEADLINE TO UPLOAD RESULT)
Steps to upload:-
Click the upload button below.
Login with your gmail account.

(If using mobile to upload, its works well with google drive app. Download it from your apple store/google store.)

Create a folder under your registered name or e-bib number and upload your result in.
FOR ENQUIRY :-